All changes to Coinranking.com will be gathered on this topic.
Updates are indicated with the next labels:
Added - For new features
Changed - For changes in existing features.
Removed - For removed features.
Fixed - For any bug fixed.
---
2021
2021-06-06T22:00:00Z
Added Recommended or neutral exchanges
2021-05-30T22:00:00Z
Added Notification - When are supplies updated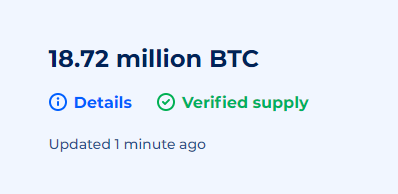 Added 5 new languages are added:
Russian
Italian
Japanese
Portuguese
Turkish
2021-05-23T22:00:00Z
Added 'Crypto Pizza' on homepage
This indicator counts down until the crypto prices are automatically refreshed after 1 minute.
2021-05-13T22:00:00Z
Added Lables for Recommended or Neutral exchanges

2021-03-23T23:00:00Z
Changed Menu

2021-03-09T23:00:00Z
Added Social media links on exchange pages

2021-03-07T23:00:00Z
Added New coin list categories:
DEX tokens
Exchange tokens
Stablecoins
NFT tokens
Staking coins
2021-02-17T23:00:00Z
Added Best & Worst cryptocurrencies page
2021-02-03T23:00:00Z
Changed Menu is renewed for better navigation
Changed Settings are put above the ranking list
2021-02-02T23:00:00Z
Added More time periods added to charts
2021-01-27T23:00:00Z
Added Market cap in the ranking list
2021-01-21T23:00:00Z
Added Rank the cryptocurrencies on trading volume
2020
2020-12-30T23:00:00Z
Added Smart contract addresses added to coin pages
2020-12-07T23:00:00Z
Added Partner & client section added to homepage
2020-12-03T23:00:00Z
Added Maximum supplies added to all cryptocurrencies

2020-12-02T23:00:00Z
Added Total trading volume of all NFTs
2020-12-02T23:00:00Z
Added Statistics of total NFT market
2020-10-29T23:00:00Z
Added Dapp overview page
2020-10-26T23:00:00Z
Added 'Supply verified' label
2020-10-18T22:00:00Z
Changed The menu is renewed which makes it easier to navigate on the website.
Added Preferences options on all pages, to set a time period or currency of your choosing.
Changed Pagination
To reach pages more easily and having the option to go to the last page right away.
Added Share + theme buttons on more pages
2020-09-21T22:00:00Z
Added New list category with DeFi tokens
2020-09-15T22:00:00Z
Added List with new listed tokens
2020-08-31T22:00:00Z
Added NFT dapp pages

2020-08-13T22:00:00Z
Added Share button on coin pages

2020-08-05T22:00:00Z
Added NFT detail pages

2020-08-11T22:00:00Z
Added More data on markets on the market pages
2020-08-05T22:00:00Z
Added Coin calculator

2020-07-28T22:00:00Z
Added Redesign exchange pages
New: overview of the exchange statistics + top markets

2020-06-21T22:00:00Z
Changes New footer

2020-06-18T22:00:00Z
Added Add coins to favorites

2020-04-30T22:00:00Z
Changed The lay-out of the coin statistics on the coin pages
Changed | Added Supply information has its own table now
2020-04-26T22:00:00Z
Added Best/worst performing labels on home page
2020-04-20T22:00:00Z
Added Symbols on the home page

Changed
Text and numbers on home page are brighter and larger.
Changed
Logos of all cryptocurrencies are enlarged.
Changed
Charts on coin pages are brighter.