All changes to Coinranking.com will be gathered in this topic.
Updates are indicated with the next labels:
Added - For new features
Changed - For changes in existing features.
Removed - For removed features.
Fixed - For any bug fixed.
---
2020-04-30T22:00:00Z
Changed The lay-out of the coin statistics on the coin pages.
Changed | Added Supply information has its own table now.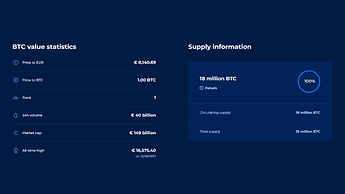 2020-04-26T22:00:00Z
Added Best/worst performing labels on home page.
2020-04-20T22:00:00Z
Added Symbols on the home page.
Changed Text and numbers on home page are brighter and larger.
Changed Logos of all cryptocurrencies are enlarged.
Changed Charts on coin pages are brighter.